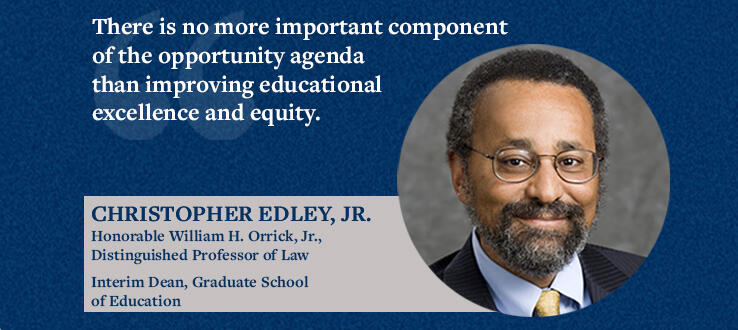 Christopher Edley, Jr., whose distinguished career includes nine years as Dean of Berkeley Law, will serve as Interim Dean of the Graduate School of Education, beginning July 1, 2021.
While much of his professional life has focused on the law, Edley, who is the Honorable William H. Orrick, Jr., Distinguished Professor of Law, has been keenly aware of educational inequities from the time he was in grade school.
"Watching the 1963 March on Washington, as a 10-year old, I wondered why Dr. King and others didn't say more about education," Edley said.
"My parents had explained how a single teacher in deeply segregated Virginia, Polly Weeden, planted dreams in two childhood sweethearts, and pushed them onto a path from poverty to Howard University, Harvard Law, and upper middle class security," he said.
"Ultimately, my parents reached positions from which they could help others, and that became my polestar before I learned to drive. By the late 1960's, I began to understand the transformative power of education, policy, and law. Nothing since has been as important to me, professionally or morally."
Edley's appointment is the first time in the GSE's 129-year history that the Dean will come without deep roots in a traditional academic field of education research or professional practice.
"This opportunity to serve is an unexpected privilege. Teaching is the most important profession, and there is no more important component of the opportunity agenda than improving educational excellence and equity from early childhood to lifelong learning," he said.
Edley joined Berkeley in 2004 as Dean of the Law School after spending 23 years as a Harvard Law professor. At Berkeley Law, his initiatives included improving the school's infrastructure; a major expansion of the faculty; increasing financial aid; creating and funding research centers to tackle society's most pressing challenges; expanding clinical education; and increasing the diversity among students, staff, and faculty.
"Chris Edley is an experienced and effective campus leader with deep dedication to education policies that will achieve more equitable education outcomes. As interim Dean, he will help the GSE community to implement its emerging strategic plan and to lay the groundwork for a new dean search that will commence in a year," said Executive Vice Chancellor and Provost A. Paul Alivisatos. (Read the full statement here from Chancellor Carol T. Christ, and EVCP Alivisatos.)
GSE Dean Prudence L. Carter, who is stepping down after her five-year term, noted Edley's influence on the local and national dialogue surrounding educational issues.
"Dean Edley's professional journey speaks for itself. I cannot think of anyone more qualified to serve. As a scholar, he has a deep grasp of the national and state educational landscapes, having chaired a number of major federal commissions and serving as co-founder of the Opportunity Institute," Carter said.
"As an administrator, he is already familiar with the UC system and Berkeley, and he led deftly the Law School for many years. His keen intellect, wit, and strong communication skills, I am sure, will also bode well for his engagement with the GSE community. Dean Edley is the full package," she said.
After stepping down as dean of Berkeley Law, Edley turned his energies more fully toward increasing access to quality education by co-founding the Opportunity Institute. He saw that moving the needle toward substantive educational reform requires starting from a values-based proposition combined with a strategy for persuading people who see the world differently to work together.
"In this American moment, there is more energetic attention to inequality and racial justice than we've seen in 50 years. Nothing is more central to those challenges than education. A great school of education at a great public university will play a critical leadership role and produce ideas that matter," he said.
There is no better place to be than Berkeley.
"Dean Prudence Carter and her GSE colleagues have moved to address acute financial and programmatic needs. Even though my tenure will be brief, campus leaders have charged me with continuing to move the school forward and upward," Edley said.