The deadline to apply for the Dr. Marcus A. Foster Fellowship has been extended to April 1, 2020. 
The Marcus Foster Fellowship's aim is to cultivate integrative teams of fellows to co-construct theories and research practices in community settings with the objective of attaining equity in education through systemic change.
The two-year fellowship for current doctoral students will provide up to $50,000 in funding and is designed to support students with a demonstrated interest in developing research, policy, and practice expertise in systems change to diminish disparities in education in California and beyond.
The Fellowship posits that the field of education warrants thought partnership and deep engagement with a variety of disciplines. For this reason, nominations and applications are invited from both newly admitted and current doctoral students from the following schools and programs: Graduate School of Education; School of Public Health; School of Social Welfare; Goldman School of Public Policy; College of Environmental Design; the Departments of African-American and Ethnic Studies, Sociology, and Political Science; School of Information; School of Law; and master's students in the Graduate School of Journalism.
More details can be found in the call for nominations and the application.
Applications and recommendations should be submitted to gsedean@berkeley.edu.
Read more below about Dr. Foster, his legacy, and the Marcus Foster Education Institute (MFEI).
---
Fellowship Established in Honor of Dr. Marcus A. Foster
Some people plant a tree or install a park bench. Others build statues or monuments to honor people who have made an impact on the community.
Marsha Foster Boyd is looking for something a little more enduring for her father, Dr. Marcus A. Foster, the first African American superintendent of the Oakland Unified School District who was killed in 1973.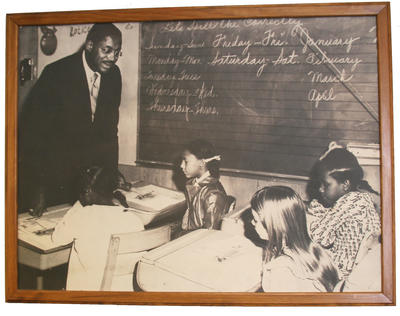 "You know what we need? Living legacies," said Boyd, President Emerita of Ecumenical Theological Seminary in Detroit, Mich. It's the reason she and the Marcus Foster Education Institute (MFEI) have established the Marcus A. Foster Fellowship at the GSE. "This fellowship is so significant because it's helping generations that will come after us, even when we won't be here. You know it is something that will impact the world in an ongoing way. And that's what matters," Boyd said.
Foster, 50, was just three years into his superintendency when he was assassinated by members of the Symbionese Liberation Army on Nov. 6, 1973, as he left a Board of Education meeting. In his brief tenure, Foster was well-known for his ability to engage the community, connect with students and families, and implement educational reforms that raised expectations and outcomes for all students.
"He gave his life for the children of Oakland. So this fellowship is for them. I think this fellowship exists for young people to understand that education is the key for them to succeed in this world," Boyd said.
"Lots of times when we talk about people, we're talking about the past, and what he did from 1970 to 1973," she said of her father. "But his legacy impacts the future. And for me this fellowship represents the future. It also captures his vision, which was 'let us focus on the children, focus on young people, and focus on how we can make this world better through education for them.'"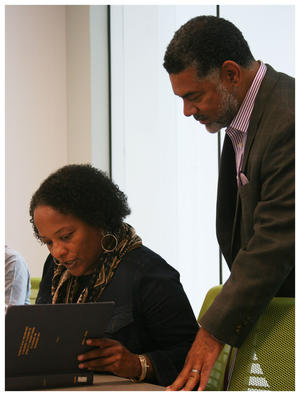 Working in service of others was paramount to Foster's life's work. A voracious reader, he pursued a career in education from the start; working as a teacher, then principal and later became an associate superintendent in Philadelphia before coming to Oakland. He earned his EdD from the University of Pennsylvania, where his thesis was titled Utilizing the Sellin-Wolfgang index of delinquency to determine the efficacy of a treatment pro- gram for delinquent and predelinquent boys (1972). Foster also authored the book Making Schools Work: Strategies for Changing Education (Westminster John Knox Press, 1971).
The Foster fellowship will support students in the Graduate School of Education who have an interest in research and multi-disciplinary collaboration that will improve educational and social systems. The MFEI's contribution of $500,000 will be matched dollar for dollar by the university's BEAR Grad matching program.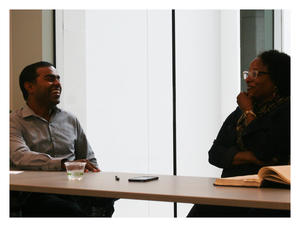 "We know that there's important research happening that is moving the needle and we know that people are doing multidisciplinary work the right way, like in public health, and journalism, and business," Dixon said. "We want to support the kind of work that is recreating, redesigning, rethinking what happens in schools today."
The Fellowship aligns with the institute's commitment to improving educational opportunities and outcomes for all students, particularly in Oakland. The nonprofit was founded by Foster as the Oakland Education Fund and later renamed in his honor.
Since its beginning in 1973, MFEI has funded college scholarships for thou- sands of graduating high school seniors, and in recent years, has partnered with school districts, nonprofits and corporations throughout the Bay Area with the aim of collectively developing and implementing strategies that create equitable educational systems.
Alicia Dixon, executive director of MFEI, noted that the multidisciplinary work of the fellowship is an integral component because such work was important to Foster. He was one of the earliest school administrators who was committed to finding creative ways to support the whole child as well as the school site.
"We know that there's important research happening that is moving the needle and we know that people are doing multidisciplinary work the right way, like in public health, and journalism, and business," Dixon said. "We want to support the kind of work that is recreating, redesigning, rethinking what happens in schools today."