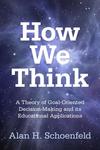 Teachers try to help their students learn. But why do they make the particular teaching choices they do? What resources do they draw upon? What accounts for the success or failure of their efforts? In How We Think, Graduate School of Education professor Alan H. Schoenfeld proposes a groundbreaking theory and model for how we think and act in the classroom and beyond. Based on thirty years of research on problem solving and teaching, Schoenfeld provides compelling evidence for a concrete approach that describes how teachers, and individuals more generally, navigate their way through in-the-moment decision-making in well-practiced domains. Applying his theoretical model to detailed representations and analyses of teachers at work as well as of professionals outside education, Schoenfeld argues that understanding and recognizing the goal-oriented patterns of our day to day decisions can help identify what makes effective or ineffective behavior in the classroom and beyond.
Below are selections from How We Think.
Some of the appendices in the book are abridged. See the complete appendices below:
More information about How We Think.