Not resting on Title IX's laurels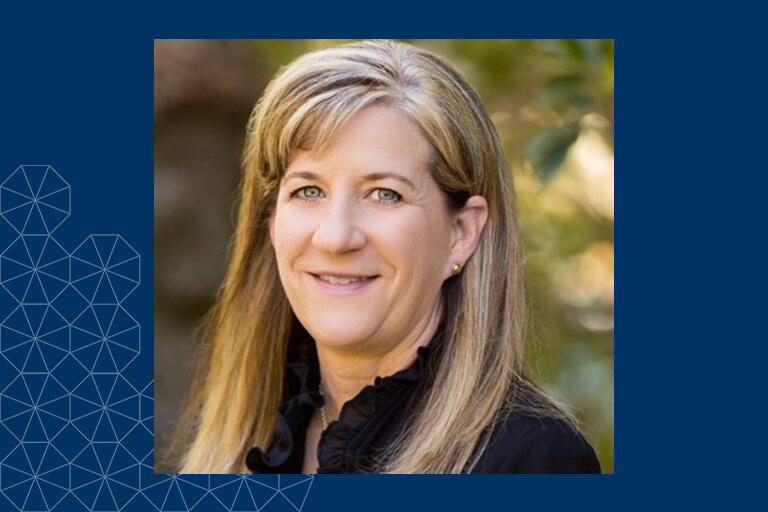 A lot has changed since Teresa Gould, Deputy Commissioner of the Pac-12 Conference and BSE alumna (MA ' 09), was in elementary school and wanted to play sports in her small Iowa farming community that didn't have a girl's softball team.
It took Gould and her father nearly a year of fighting city and league officials to get her a spot at third base on the boy's baseball team. She could catch, throw and hit with the best of them. But, in the eyes of those officials, one thing was working against Gould—her gender.
Gould's fight for equity on the field came at a time when Title IX, the federal law prohibiting gender discrimination in schools or educational programs that receive federal funding, was still in its infancy and compliance was sparse.
"The fact that Title IX is a mandate and that institutions are expected to comply has certainly resulted in extraordinary growth, change and opportunity for girls and female student athletes," Gould said. "Hallelujah for that."
In fact, in 1971, one out of every 27 varsity high school athletes was female. Today, girls make up more than four out of every 10 American high school athletes.
But the work is far from done.
Gould says some institutions and decision-makers still lean more on compliance than the spirit of the law.
"There's still too much checking the box instead of investing and growing women's sports. That is not great, in my view," she said.
"I think part of that is because either you believe that it's the right thing to do—that young women deserve the access and opportunity that young men do—or you feel like you have to do it because somebody in the Office of Civil Rights (federal compliance office) is hanging over your head."
And then, there are the unintended consequences.
The increase in opportunities for female athletes has also resulted in far fewer female head coaches in the National Collegiate Athletic Association (NCAA).
Prior to Title IX, the NCAA was composed of only men's teams and women's sports were governed by the Association for Intercollegiate Athletics for Women (AIAW). Ninety percent of all women's college teams across all sports and divisions, were coached by women. Today, that number has plummeted: 41 percent of NCAA women's teams have female head coaches (6 percent of all NCAA men's teams have a female head coach).
"I think the lucrative nature of the head coaching jobs, with growing salaries and more prestige and exposure means that more men are attracted to coaching. The 24/7 lifestyle piece of it and how hard it is for women to balance family life, I think those are just some of the reasons that a lot of women have gotten out of coaching," Gould said, adding that she volunteers her time with WeCoach, a nonprofit organization that promotes, develops and helps retain women in coaching. She currently serves as president of the Board of Directors.
"The Pac-12 Conference is one of the DI conferences that has a conference-wide membership with WeCoach. We actively participate in hosting workshops for the female coaches in the Pac-12, as well as supporting and promoting the various programming designed to support women coaches," Gould said.
Reflecting on a half century of Title IX and progress that has been made, Gould is realistic in what the future holds.
"When you think, wow, it took 50 years to get to the point where it feels at all similar—and I'm not even going to use the word equal because it's not equal or equitable at this point," she said. "I wish desperately I could say that I think there will be a time when we don't need a law, but I don't know that I believe that."
Equity, she says, needs more than a mandate.
"I'm pleased that we have been able to make great progress over the last 50 years," Gould said. "But it's too soon to rest on Title IX's laurels."
Gould @ Berkeley and the importance of student-athlete voice
BA, Iowa State University
MA, Education, UC Berkeley

Deputy Commissioner, Pac-12 Conference
Interim Athletics Director, UC Davis
Deputy Athletics Director, UC Berkeley
Associate Commissioner, West Coast Conference
Gould earned her master's in Education with an emphasis in the Cultural Studies of Sport in Education, a program lead by BSE Professor Derek Van Rheenen. The program investigates the ways in which institutionalized sport both conflicts with and complements the educational missions of American secondary and post-secondary schools.
More than a decade since she graduated from the program, Gould still values those discussions in Van Rheenen's class, including reflecting on her own athletic journey, which at times was isolating as the only girl on a boy's team, or in high school when she would attend the open gym with the boys' basketball team because the same opportunity wasn't available for girls.
"How am I supposed to get better if I don't have access to a hoop?," she said, adding that she was bullied for taking a stand.
"I wasn't going to let anybody get in the way of me pursuing something that I loved and something that I felt like I deserved to have access to. Despite how hard it was and how fearful I was at times of the criticism and the mean kids, to be honest, I knew that I had to do it for the girls after me.
"I just don't think I could have lived with myself if I would have just quit."
Van Rheenen's program also explored a student-athlete's role and relationship to collegiate coaches and institutions of higher education.
"We talked a lot about student-athlete advocacy and the relationship between coaches and student-athletes as it relates to the hierarchy and the power differential, and how we elevate and encourage student-athletes to speak up and use their voice," she said.
With her 30+ years in college sports, Gould has experience with the many recent changes to rules around student-athletes' eligibility, usage of their name, image and likeness, sponsorships, and having a voice in governance—all a result of students advocating for themselves.
"I think for the longest time, there was a sense that student-athletes, because of their scholarship and all the resources and all the services they receive, should be grateful for what they're being given and not ask for more," Gould said. "I think they're tremendously grateful for the experiences they're being afforded. But that doesn't mean that they shouldn't speak up when they think something is not right."
She noted that coaches aren't penalized when they move schools, but student-athletes historically have had consequences when they decide to transfer, although the transfer rules have recently been modernized.
"There's more participation by student-athletes in the governance structure and in decision-making in the NCAA than there's ever been. And I think that will continue to grow, which is a good thing," she said.